OCEAN TREASURE Co., Ltd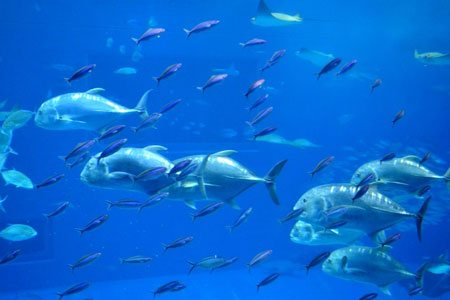 Ocean Treasure Co., Ltd., based in Taiwan, has 30 years of experience providing fresh marine products, including tuna and marlin, around the world. Its own fleet of fishing vessels allows it to sell 15,000 tons of fish annually. Ocean Treasure Co., Ltd.'s processing plants are HACCP certified. The Group provides customers in each country with marine products that are not only delicious, but also safe and reliable.
Primary business
●Marketing the catches of long-line fishing vessels.
Annual sales of 15,000 tons.
1. Broadbill swordfish: 4,500 tons annually sold to Europe, S. Korea, Japan, and Singapore.
2. Black marlin: 1,000-1,200 tons annually sold to S. Korea, Japan, and Taiwan.
3. Blue shark: 2,000-3,000 tons annually sold to Uruguay.
4. Others: 2,000-3,000 tons annually sold to countries around the world.
●Sale of bait.
U.S.A.: sardines, China: sardines, Japan: mackerel, S. Korea: mackerel, Taiwan: mackerel, Pacific saury, milkfish, mackerel shad
History of Ocean Treasure Co., Ltd.
1986
Established by Wen-Yuh Lu under the name Jhen Her Fishery Co., Ltd. in Kaohsiung, Taiwan.
Lu initially built three squid jigging vessels and exploited new squid fishing grounds near
the Falkland Islands.
These vessels were later reconstructed into ultra low-temperature frozen longliner fishing vessels,
mainly targeting Atlantic tuna sold as frozen catches in Japan.
1994
The current chairman, Yu-Chu Lu, made the decision to expand the frozen tuna business with
Japan as the main focus.
2004
The company name changed to Ocean Treasure Co., Ltd.
2006
Existing clients spread over 30 countries, with products handled ranging from unprocessed
to processed items.
2011
Local Japanese affiliate Hiroichi Co., Ltd. established in Shimizu, Shizuoka.
2012
Grand Harvest Seafoods Co., Ltd. established in Cianjhen District, Kaohsiung.
The Group operates a large number of long-line vessels and supplies tuna, marlin, mahi mahi,
and other fish varieties to its customers.